IDC Duren Tiga, Indonesia
Located at Cyber Building in Jakarta where it is home of largest Indonesian Internet Traffic meeting point, Indonesian Internet Exchange (IIX). More than 99% of Indonesian Internet traffic bypasses this building, making it one of the most lucrative datacenter location in the nation. The datacenter facility operates on Internationally acclaimed datacenter infrastructure with N+1 Cooling, N+1 UPS systems, redundant Diesel Generators, Secured Access Control and sophisticated surveillance systems.
Infrastructure
IDC Jakarta 3D was setup at the end of 2010 with 600 racks capacity. With a new concept, IDC Jakarta 3D has brought a new colour to the typical "dull" live around a data centre. The new concept is so insipiring, even a visitor from Mozilla Foundation commented "15 years in technology, I've never seen anything like this".
Network Operation Center
The Network Operation Centre runs 24 x 7 x forever with 3 shifts per day, giving 1st level support, network, server and facilities monitoring. HP Open-view system and CiscoWork 2000 is used for network and system monitoring. Site-scan system is used for facility monitoring. One of the most significant benefits of selecting us is the level of security that is offered from a facility, server and network perspective. Our commitment to security has been a leading factor in winning and sustaining business - especially those businesses focused on E-Commerce.
Power
Full redundancy is on hand in our Data Centers. Our generators can restore any fault in power supply. These generators can fully operate within 20 seconds after the power failure and has a redundant diesel generators with 72-hours fuel supply. 2 units of 1250kVA, each fed off dual power sources from a single grid. The data centre is equipped with an 8 x 200kVA capacity of uninterrupted power supply, with 20 minutes full load battery backup system. Liebert power supply and distribution unit is each of 100kVA capacity.
Air Conditioning
Downflow Liebert Systems environmental units are used with built-in zone redundancy. The data centre uses 12 PCU-Precision Cooling Unit, with 50% humidity control and 20 degrees centigrade for server health. Chilled Water Systems are used as the backup, working with industrial dehumidifiers to control the humidity of the server room. Emergency power generators guarantee full uptime back up for all air-conditioning. Raised floor design creates airflow which assures the most efficient cooling possible.
Fire Suppression Systems
Our facilities use dry fire suppression systems, which are integrated with features such as fire department notifications and controlled shutdown. These systems are constantly monitored and tested on a regular basis. The FM200 is used as our main zone-based fire protection for equipment, which will be triggered by smoke sensors and fire detection system. Fire extinguishers are used to fight small fires. The dry pipe water sprinkler system is used as a backup fire protection system, which can be triggered manually.
Physical Security
Areas where servers are located provide an extra-secure environment for housing the equipment featuring top-of-the-line security systems that incorporate biometric identification systems, closed-circuit cameras (CCTV), security patrols, social engineering practices and restricted floor access. Cages are used to provide additional security. The data centre is staffed with security guards and engineers 24/7, and requires card key access to get inside. No one except for our technical staff has access to your server.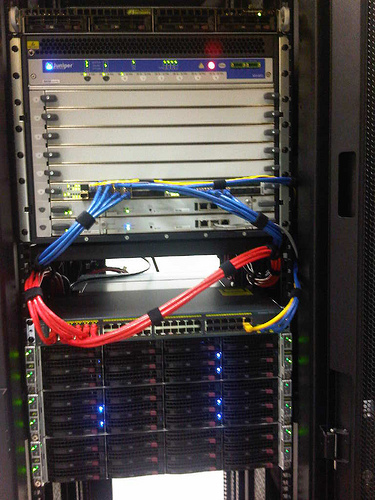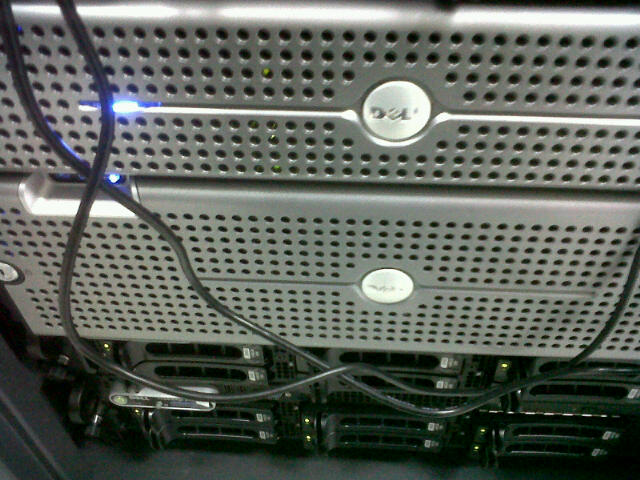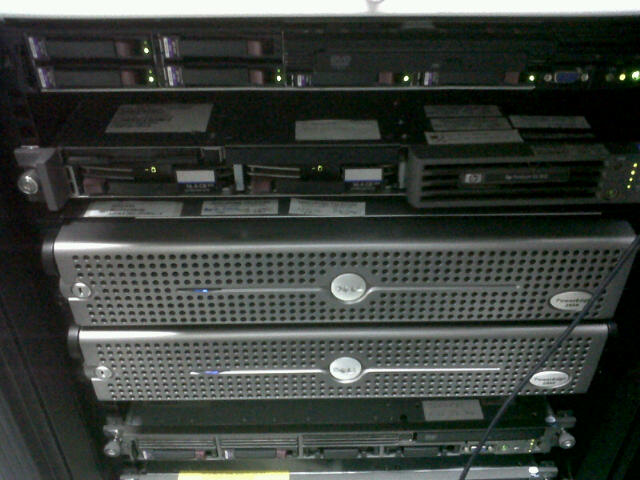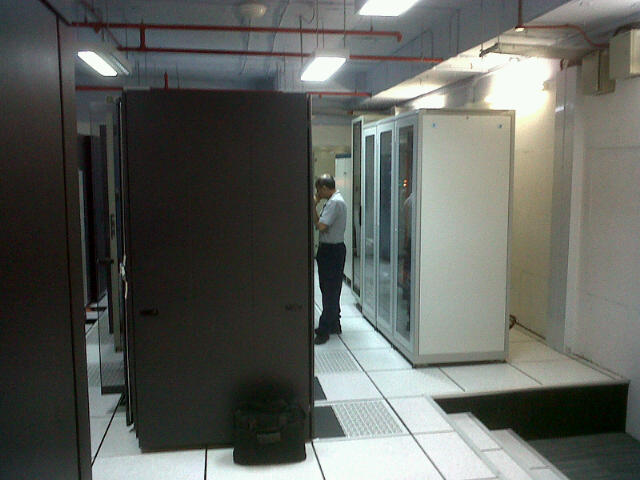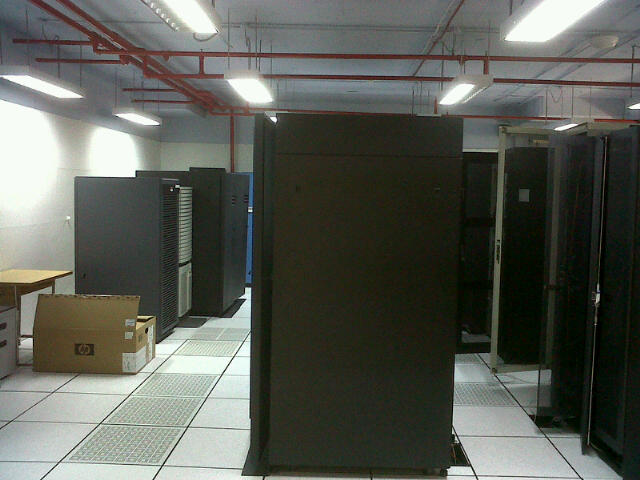 PhoenixNap, US
With highly personalized service, vastly redundant systems, and an extremely secure data center, our operational philosophy at Phoenix NAP is to deliver flexible and efficient IT solutions to meet your needs.
More importantly, your data and critical information is kept safeguarded through our incredibly robust security systems. Employing biometric and technological systems that feature seven separate authentication factors between the front entrance and your server on the data center floor, Phoenix NAP maintains high degrees of data security standards.
Network
Multiple Tier 1 fiber networks into our facility, thus enabling you to select the best provider for your specific needs.
With an extensive array of options, including protected and unprotected wavelength, multi-protocol label switching (MPLS), layer 2 dark fiber and metro-Ethernet services, you decide what technology fits best.
100% Service Level Agreement
Power Systems
Phoenix NAP's power distribution focuses on meeting your needs and requests by supplying you with highly available 2N power. Our end-to-end redundancy starts with two transformers at the utility substation delivering power along divergent paths to redundant UPS systems. Step-down redundant transformers feed redundant main power distribution panels, and redundant power distribution boards (PDBs). These PDBs are customized specifically for our facility and allow us to maximize our available data center space while providing a true 2N power option to your rack.
Environmental Controls
Keeping your equipment sufficiently cooled so it can successfully run online is the focus of Phoenix NAP's mechanical (cooling) distribution system. By employing a bi-directional closed water loop, Phoenix NAP's design avoids single points of failure, thereby maximizing redundancy. Like our power system, the Phoenix NAP cooling distribution is concurrently maintainable, meaning any area can accommodate maintenance without disruptions.
Security and Access
Phoenix NAP's security combines state-of-the-art technology with onsite, directly employed staff to continually maintain a highly protected environment. As a SOC 2 audited facility and PCI DSS validated services provider, Phoenix NAP is able to help clients comply with a variety of industry guidelines, including HIPAA, SOX, or GLBA.
Fire Suppression Systems
Pre-action sprinkler rated for telecommunication equipment/computer room
Integrated smoke/heat detector system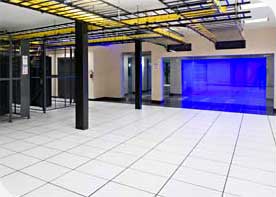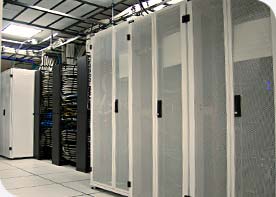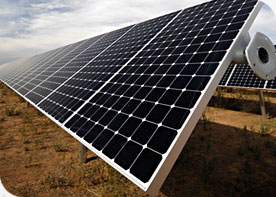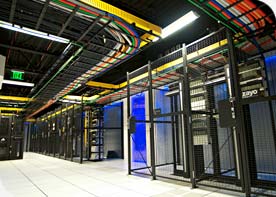 Telin, Singapore
Telin Singapore Data centre (TSC) has a very wide space, Tier-3 Design and comply with TIA/EIA-942 Standard facilities of Co-location & Data Centre.
24x7x365 on-site advanced security system, highly Scalable Uninterrupted Power System with power generator backup, precision air conditioning system, trend management system and environment monitoring system.
This facility has been specially designed for Co-location, Data Centre, IP Network, Disaster Recovery Centre, & International Submarine Cable Network.
Datacenter Factsheet
Space footprint 600mm x 1000mm
Space with high quality rack 600mm x 1000mm 44 U fully perforated
230 Volt UPS with Redundancy System.
Big capacity power with dedicated transformer and Generator Set.
Meet Me Room physical and virtual interconnection
Bundling rack with dedicated link 10 Mbps . 64 Gbps and IP static
24 hours smart hand, integrated NOC system and online and SMS ticketing system
GPS & PRS clocking system.
Biometric access door data centre.
Trend management system to integrated monitor temperature, humidity, fire detector, water leakage, and power supply status.
In-house wiring cable installation with Main Distribution Area and special cable tray arrangement.
Fire Suppression Systems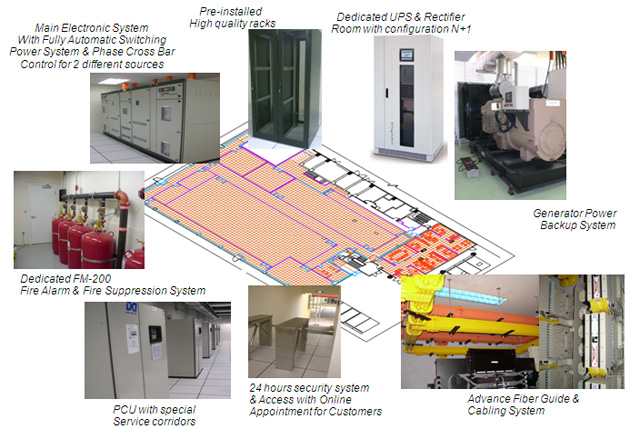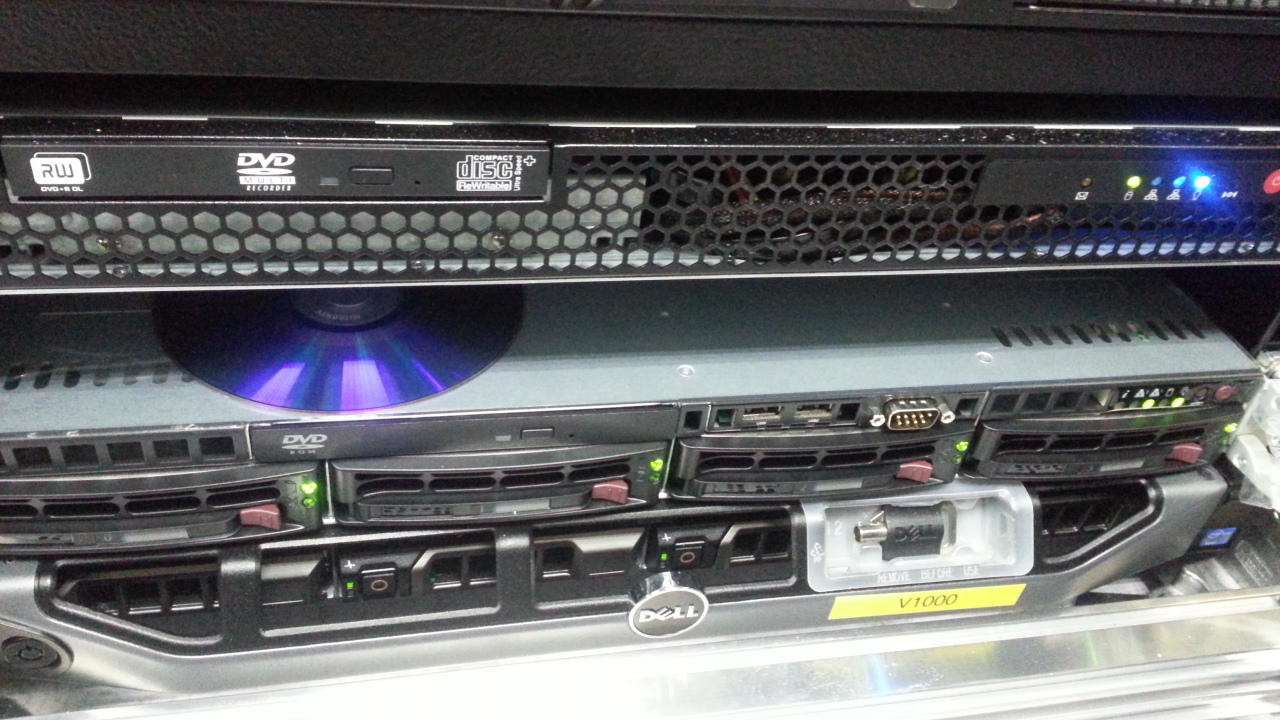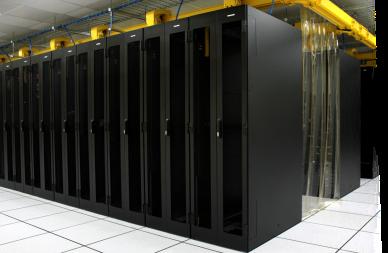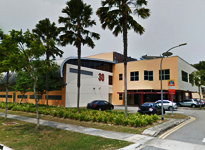 Quadranet LA Downtown, US
QuadraNet's Los Angeles facilities total a whopping 50,000-plus square feet of privately owned and operated datacenter space. We operate one of the largest footprints in Los Angeles which is specifically dedicated to an end-user colocation provider.
Each of our datacenter suites features independently operated infrastructure including UPS Battery Backup Units, HVAC and CRAC cooling units, and distribution routers.
This compartmentalization of our resources limits risk and liabilities to only specific groups of equipment, as opposed to wholesale outages.
Datacenter Factsheet
Capacity for over 15,000 dedicated servers
Each datacenter suite equipped with 2 x 150KvA UPS Battery Backup Units
Each datacenter suite cooled by multiple Liebert and APC CRAC's
1200Amps 480v 3phase Input Power per suite
All suites backed by 3 x 2000Kw Caterpillar Generators
Every suite secured by keycard authorized entry
Direct access via conduit to 1 Wilshire Meet-Me-Room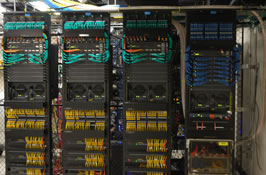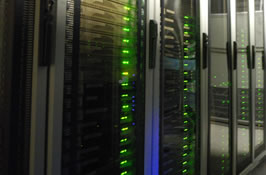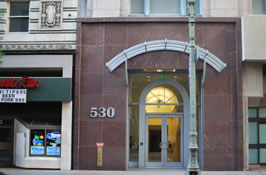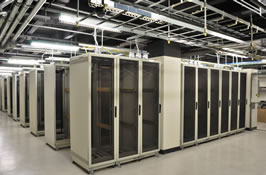 Quadranet AMS, NL
QuadraNet's Amsterdam facility fulfills OHSAS 18001, SOC 1 Type 2, PCI DSS, SOC 2 Type 2, ISO 9001:2015, ISO 14001:2015, ISO27001, and ISO 50001 certification requirements; meeting and exceeding sought-out compliance requirements for even the most stringent industries.
This European-based data center features fail-safe power infrastructure that allows for clients to receive fully-conditioned raised-floor space with a 100% power uptime service level guarantee; ideal for businesses looking to expand to Europe, or migrate infrastructure from an existing European data center. With access to the major region-based internet exchanges like AMS-IX and NL-ix, you are assured that network connectivity options are optimal and diverse within QuadraNet's new Amsterdam facility.
Datacenter Factsheet
Located in the heart of Amsterdam, one of the world's largest data center markets
15 MW existing capacity
PUE as low as 1.2 for reduced waste, OPEX